Cornwall – (RealEstateRama) —Cheryl and Marc Cesario, farmers of Meeting Place Pastures, purchased 90 acres from their neighbor, Matt Bonner, who had conserved the land with the Vermont Land Trust in order to make it more affordable to the Cesarios.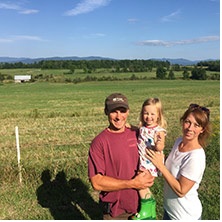 Cheryl and Marc moved to Cornwall in 2009 when they purchased their first property, also conserved with the Vermont Land Trust, to start their family business. Before that, Cheryl and Marc had been farming in separate locations, Cheryl on a dairy in South Hero, and Marc with livestock in Massachusetts.
Meeting Place Pastures began with 12 calves, as well as pigs and meat birds. Over time, the couple decided to focus on beef, and now they have a herd of 80 cattle that are grazed on certified organic pastures. They also contract graze 160 other animals for local beef and dairy producers (Cheryl is also a grazing specialist with UVM Extension).
A few years ago, Matt Bonner moved into the neighborhood and bought property that included excellent farm fields across from the Cesarios' house. Matt is a regular customer of Meeting Place Pastures, and knew that Marc and Cheryl had long been interested in purchasing the parcel he owned near their home. Matt was interested in selling to them because he admired their business and their sustainable land ethic, so the three neighbors created a plan together.
"We knew that conservation would make a big difference in us being able to purchase the land," said Cheryl. Matt sold the development rights on 90 acres to the Vermont Land Trust, so the Cesarios could purchase the land for a lower, more affordable price. The sale of conservation restrictions keeps agricultural land in production while permanently protecting it from development.
"Conservation is a big reason why Addison County has so many farms," said Allen Karnatz of the Vermont Land Trust. "It protects the land from development, but in cases like this, it also keeps the land in farmers' hands."
Cheryl and Marc leased the parcel for two years before buying it from Matt. Now, they have the security that comes with ownership. "Knowing that we have control over a long period of time makes a huge difference," said Marc. "It gives us the confidence to that we can reap the benefits of the long-term improvements that our business model requires."
Last summer, Matt sold 154 acres to the Vermont Department of Fish & Wildlife to become part of the adjacent Lemon Fair Wildlife Management Area. Cheryl and Marc also have wildlife in mind, and will be protecting 4.5 acres along a stream that crosses their new land, making sure it remains vegetated and is fenced to exclude livestock. This protects wildlife habitat and improves water quality. The couple secured funding for this project from the Vermont Conservation Reserve Enhancement Program.
"This was a great outcome for everyone," said Matt Bonner. "Conserving the land with VLT, and making it possible for the Cesarios to expand their business, was my intent from the start. We were also happy to help complete a continuous stretch of conserved farmland in the Lemon Fair Valley."
Conservation funding was provided by the Vermont Housing and Conservation Board, with matching funds from USDA Natural Resources Conservation Service.