Barre, Vt. – July 7, 2009 – (RealEstateRama) – A dairy processing plant in Brattleboro; a food processing center in Hardwick; a slaughterhouse in Westminster; and a Barre facility that recycles furniture and other goods for distribution to needy Vermonters were among more than $3 million in job creation grants announced Tuesday.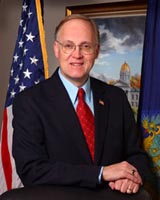 "These grants are a great resource for companies, municipalities and organizations looking to grow and answer their unique challenges and needs," said Governor Douglas. "I'm pleased to honor each of these recipients today with grants that will help with planning, redevelopment, expansion, handicap accessibility and more. These recipients are very deserving of our support."
At a ceremony at Recycle North's new facility in a former granite shed, Governor Jim Douglas announced the award of $3.3 million in Community Development Block Grants for those projects, as well as others.
"All of today's recipients are making a positive and important contribution to our economy and our state's well-being. These projects will create jobs and opportunities," Governor Douglas continued. "The town improvements being funded with these grants will put Vermonters to work and improve our communities. The specialty food products and opportunities being created and expanded with this money will help create jobs and give Vermonters a chance to realize their entrepreneurial dreams. Access to meat and dairy processing equipment is essential to farmers, especially during this difficult economic time. And certainly access to affordable housing that is close to schools and services is something I've been very supportive of.
Today's grants were awarded to the following towns, businesses and organizations:
$650,000 implementation grant to the Town of Hardwick to be sub-granted to Northern Enterprises for construction of the Vermont Food Venture Center 2, a multi-purpose food processing facility in the Hardwick Industrial Park. 19 jobs will be created of which 10 will be to individuals with low- to moderate- incomes.
$648,000 grant to the Town of Westminster to be loaned to Vermont Meats to retrofit and equip an existing facility located on Back Westminster Road to be utilized as a meat and poultry slaughter and processing facility. 15 jobs will be created of which 12 will be available to low- and moderate- income individuals.
$600,000 implementation grant to the Town of Brattleboro to be loaned to Commonwealth Yogurt to purchase specialized equipment for a Class II Dairy Processing facility. Using conventional, rBST free, and organic milk the facility will produce cultured products, primarily yogurt for private label retail and wholesale customers as well as co-pack production for major national brands. 25 jobs will be created of which 14 will be low- to moderate- income individuals.
$590,000 grant to the Town of Randolph for Randolph Area Community Development Corp to rehabilitate the former Ethan Allen plant. This project called Salisbury Square redevelopment is a mixed use, mixed-income project that will include 22 homes, 14 rental units and 1200 square feet of office space on the blighted property adjacent to downtown.
$300,000 grant to the Village of Swanton to be given as a deferred loan to Champlain Housing Trust and Housing Vermont to construct 16 units of affordable rental housing known as Blake Commons. The vacant in-fill lot is situated near services, schools and recreation making it an ideal location for new housing.
$294,820 grant to the City of Barre to be sub-granted to ReCycle North to purchase and renovate a historic granite shed in downtown Barre, cleanup contamination on the site, create classrooms and training spaces, and develop an efficient marketplace for reuse and processing areas to distribute goods to people in need. 10 jobs will be created of which 6 will be filled by low-to-moderate income individuals.
$200,000 grant to the City of Montpelier to be sub-granted to Home Share of Central Vermont for service in Washington County and expanding into Orange and Lamoille Counties. This will allow Home Share to support 80 home share matches which will directly benefit 196 individuals.
$30,000 planning grant to the Town of Hartford to be sub-granted to the Green Mountain Economic Development Corporation to create a plan for the redevelopment of Prospect Street in White River Junction.
$24,900 access modification grant to the Town of Randolph to provide accessibility to the Randolph Municipal Building and bring it into full ADA compliance with state and federal regulations.
$20,000 planning grant to the Town of Brighton to develop a plan to integrate the Island Pond commercial downtown with Island Pond Lake front by re-designing and improving the existing 5-acre Lakeside Park.
The Agency awards the competitive grants based on recommendations of the Vermont Community Development Board and approval of Commerce and Community Development Secretary Kevin Dorn.
For information about the Vermont Community Development Program, please see the Agency of Commerce and Community Development website at: http://www.dhca.state.vt.us/VCDP/index.htm
###
CONTACT: Dennise Casey (802) 828-3333